New Federal Petition
Fully accessible housing is desperately needed.  Every one of us will someday have a temporary or permanent disability.
The Older Women's Network "Living in Place" campaign includes a petition to the House of Commons.  
If you are a resident of Canada, please sign Federal Petition E-1768 (Housing policy) and share widely.
Thank-you for your support.

#accesselfie   and   #accessivote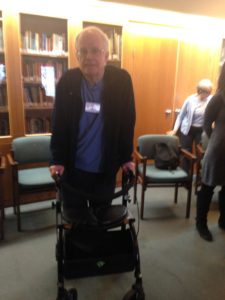 You've heard of a "selfie" – Maybe you've even taken one of yourself. If you (or a friend) use any sort of mobility aid, whether a cane, a walker, a wheelchair or something else, we're asking you to take an "accesselfie" and post it on Twitter, Facebook, in an email or some other social media with the hashtag #accesselfie and a comment about the need for accessible housing. For example: If housing is a human right, why doesn't that include people who use wheelchairs? Change the Building Code.  #accesselfie     Remember #accessivote
Here's one already posted:
Life is difficult enough when you have a disability. We need accessible housing. #accesselfie Let's change the Building Code to require that all new housing be universal design. Remember #accessivote